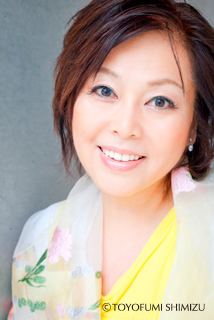 Tomoko Shibata
Soprano/Vocal

Tomoko Shibata transcends the genre of classical music voicing to the world gthe joy of being alive at this momenth.

She went to New York and mastered English on her own and studied at the Mannes College of Music and the Julliard School while holding down a job. Though she was not familiar with operatic repertoire back then, the very first audition in the US gave her the role of the heroine in English production of gYuzuruh. The New York Times ran a very favorable review. Fascinated by music drama, her interest in opera built up. She acquired permanent-resident status. Despite the hardship of student life abroad, she did not forget to enjoy it and treasure it as a driving force for her musical career, continuing to sing heartwarming melodies that she collected at every corner of the world. Now that her performance with Kronos Quartet was also highly acclaimed, she could have stared a full-scale career in US. Contrarily, Shibata decided to study opera seriously and ventured to go to Italy in 1988.

Among many other venues, the singer has appeared at Carnegie Hall, Lincoln Center, Kennedy Center in US, and New National Theater, Orchard Hall, Kioi Hall in Japan singing in operas and recitals. She has stared in such operas as gLucia di Lammermoorh, gThe Magic Fluteh, gRigolettoh and others.

Though her singing style is firmly based on classical music, Shibata is also a pioneer of crossover music, the genre that has become very popular now. She has worked with Russell Watson, SMAP, Daisuke Asakura and other leading musicians and appeared in numerous TV and radio programs. She was an FM radio personality for an hour-long music program for six consecutive years. The soprano even broadened her career to musicals and appeared in gKikifs Delivery Serviceh, gBlue Stocking Ladiesh and gThe King and Ih.

In 1995- 2000,Tomoko Shibata was an exclusive recording artist of Toshiba EMI, from which gManhattan Dreamh, a collection of American musical tunes such as Bernstein and Lloyd-Webber was released. gLet It Beh, all Beatles cover album recorded in London the following year, the first attempt by a female vocalist was a world blockbuster. gChallenge for Futureh, the fight song of Seibu Lions was released by Crown. In fall, 2008, gTenchuh, game music for which she wrote the lyrics and sang, was released worldwide. In September 2009, she self-produced gMy American Dreamh, her first all classical album.

Experienced the September 11 attacks in New York not far from the spot witnessing how courage and love could overcome the pathetic reality, she started to try to keep peoplesf hearts from falling apart through music. Searching for an answer to the question, gWhat music can do to fight against threatening incidents?h she continues to present gLive Music for eTribute to Sep. 11fh every September since 2007 and other similar concerts, hoping to offer live music full of energy to those who live the life of the moment. She is a passionate supporter of gWe are the Family Foundationh led by Nile Rodgers, producer of Madonna and David Bowie who, along with other musicians of the world, offered aid for Sep. 11 survivors.

Shibata started gLove Classicsh for Christmas in 1997. The number of performances had reached as many as seventeen by the time it ended in 2006 much to everyonefs disappointment. Other series she produced include gClassical Song Partyh and annual gSalad Anniversary Concerth sponsored by Kewpie with a concept of gVegetable and music are vitamins for hearth that started in 2005 and ongoing.

In 2008, with an assistance of Daisuke Asakura, sound creator, she started another series, gChololat de Maria Callash, a music drama that tells the life story of her beloved diva. Callasf straightforward way of life gave Shibata courage to fight against breast cancer.

In July 2007, she opened gJiyugaoka-Operazah, the venue blessed with light, breeze and green where she can produce music of her own and share heartwarming moments with others. She founded T. S. Project International Inc. Planet Spirita, mandolin duo she conceived, made the CD debut from Universal Music in November 2009.

Aside from being a musician and producer, she is interested in forest therapy as a means of improving the dire global environment and environmentally friendly life style with the help of herb and essential oil. Shibata passionately endorses gHerbal Musich a new genre of music.

She has joined some charity concerts and events both in Japan and New York for 10 years since 9.11 tragedy happened. 10th year, the Tohoku earthquake attacked and Tomoko Shibata participated in volunteer activities besides music after the earthquake.

She started a reconstruction assistant event called " SONGS FOR HOPE" for Tohoku, Japan.

It will be 4th "SONGS FOR HOPE" on March 11, 2012. She and her colleagues donate every time for orphans in Tohoku.

She has evolved as a singer who deliver her own message.